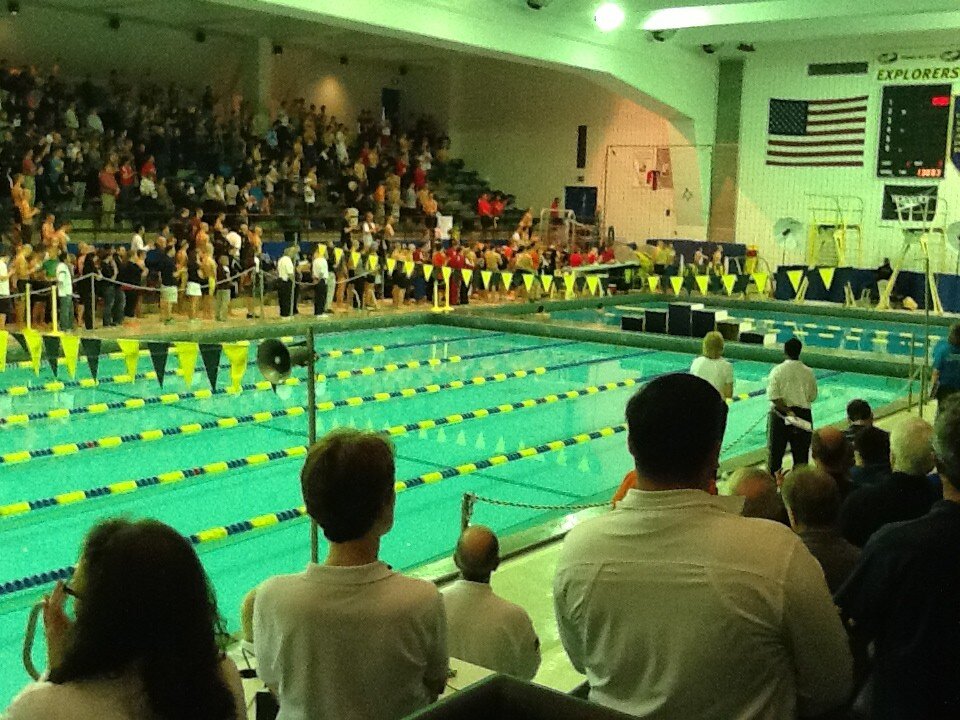 Swimmers, fans and officials stand for the national anthem before Thursday's boys session at the District 1 Swim Championships at La Salle University. (Photo by Steven Moore)
By Steven Moore
smoore@pottsmerc.com
PHILADELPHIA — Big swim meets can often seem like never-ending affairs that require a detailed program and a GPS to navigate.
But no matter what colors you're wearing, everyone pays attention to the 50 freestyle — the fastest event in the pool.
By those standards, two Pioneer Athletic Conference swimmers stole the show on Day 1 of the District 1 Boys Swimming Championships at La Salle University's Kirk Pool.
Owen J. Roberts junior Sam Feiser and Upper Perkiomen senior Kyle Himmelwright both brought home gold medals Thursday, as Feiser won the Class AAA 50 free (20.97) and Himmelwright finished first in Class AA (22.21).
"I felt like with my taper I was ready to swim fast," Feiser sad. "My teammates always help me with practice and my coaches are really supportive of my swims. My best time was a 21-high this year, and that was a (20.97) so I was happy about that."