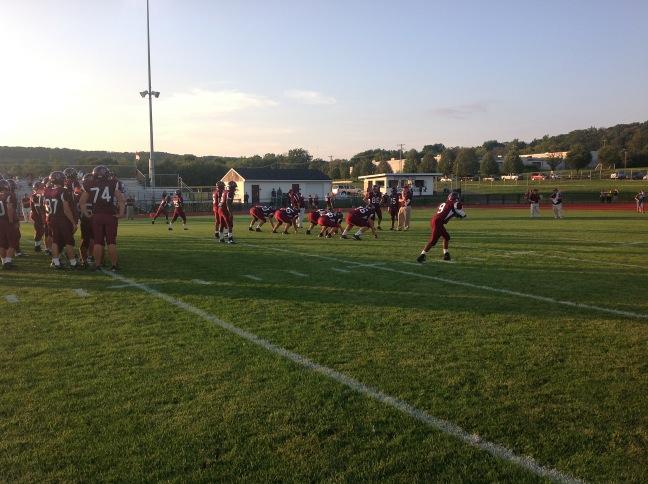 The pregame warmups at Pottsgrove as the Falcons prepare for Boyertown. (Photo by Darryl Grumling)
Week 4 is upon us, and it's yet another beautiful night for football.
Join us here all night long for the latest scores from tonight's slate of six games, along with video and other news and notes, including Darryl Grumling's live look-ins from Boyertown-Pottsgrove.
Connect with us in the comments or on Twitter
@PottsMercSports
. Let us know who you're rooting for, or what's going on at the game you're watching.
Here's the rundown for tonight. Connect to our live scoreboard
by clicking here.
PAC-10
Boyertown at Pottsgrove -- Darryl Grumling (@MercSmokinD)
Perkiomen Valley at Pottstown -- Don Seeley (@DonSeeley1)
Phoenixville at Owen J. Roberts -- Barry Sankey
Upper Perkiomen at Spring-Ford -- Jake Hallman
BERKS LEAGUE
Daniel Boone at Governor Mifflin -- Jeff Stover
NON-LEAGUE
Perkiomen School at George School -- Dennis Weller